Makeup Tutorial – How to Apply Lip Products for the Perfect Pout
Are you looking to get the perfect pout? Look no further! In this makeup tutorial, we'll show you everything you need to know about applying lip products for a flawless look. Regardless of your skill level, we'll teach you step-by-step how to achieve that enviable finishing touch, from prepping your lips before applying any color product all the way through grooming and outlining your unique shape. Then, with a few simple tips, tricks and tools, plus the right colors for your skin tone, you can be confident knowing that each time you apply lip products — lipstick or gloss —you're wearing something on trend without taking hours out of your day doing it.
Guide to prepare your lips for the perfect lipstick application
Start with a clean slate: Before applying any lipstick, it's important to ensure your lips are clean and free of any oil or dirt. Use a mild cleanser and warm water to scrub your lips gently, then pat them dry with a soft towel.
Hydrate: Dry lips won't absorb the color properly, so it's important to keep them hydrated before applying lipstick. Use a nourishing lip balm to moisturize your lips for a few minutes before applying lipstick.
Exfoliate: If you have chapped or cracked areas on your lips, gently exfoliate them using a damp washcloth, sugar scrub, or lip scrub. This will remove dead skin and smooth your lips before applying lipstick.
Line it up: Use a lip liner to line the outline of your lips, then fill them in with the liner for an even look. Not only does this help keep your lipstick from feathering or smudging, but you can also use different lip liners to create interesting effects with your makeup.
Apply lipstick: Now that you've prepped your lips, you're ready to apply your favorite lipstick! Start by applying a thin coat in the center of each lip and blending outward towards the edges using a lip brush or just your finger. Then apply one more layer if necessary for extra color.
Blot and set: To keep your lipstick from smudging or fading, gently blot your lips with a tissue after you've applied the color. Then, set it by lightly dusting some loose powder over it. This will help lock the color in place for hours and give you perfect, long-lasting wear!

Techniques to help you apply lipstick on dry lips
Apply a hydrating lip balm: Use a natural lip balm free of fragrances or additives to deeply hydrate your lips before applying lipstick. This will help keep the color in place while locking in moisture throughout the day. Let it sit on the lips for 10 minutes before you move on to the next step.
Prep with primer: Applying a lip primer before lipstick helps to keep the pigment in place and prevents it from feathering or fading away.
Use a lip brush: Applying lipstick with your fingers can be messy, so use a clean lip brush instead to get more precise coverage on dry lips. Start by outlining your lips first, then fill them with the brush.
Set your look with powder: Finish off the application by lightly dusting your lips with translucent powder to help lock in color and keep it looking vibrant for longer periods. This is especially important if you have naturally dry lips that tend to drink up moisture quickly.
Reapply throughout the day: To maintain moist, hydrated lips, make sure to reapply your lipstick as needed throughout the day. This will also help keep your color looking vibrant and true-to-tone.
By following these steps, you can easily apply lipstick on dry lips and get a beautiful pout that lasts all day!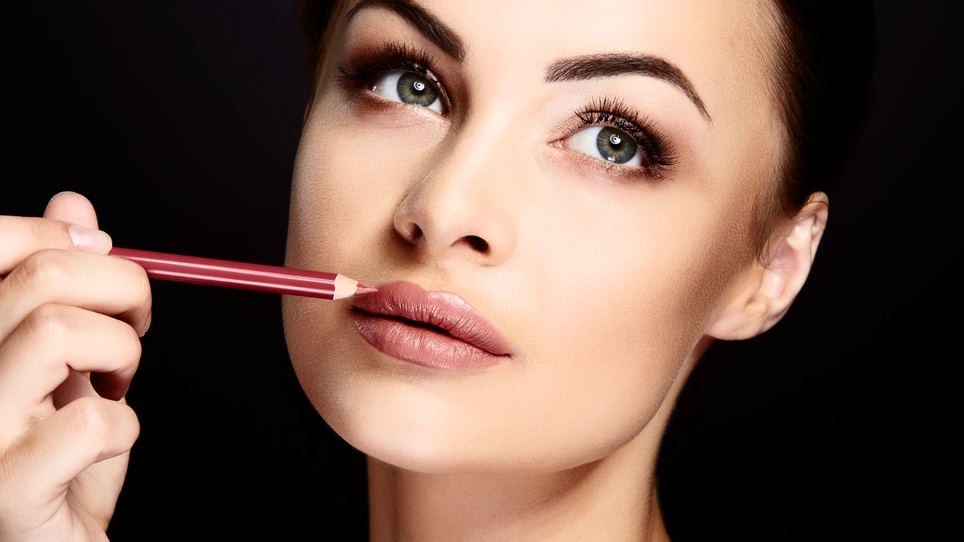 The secrets to long-lasting lip color
To start, using a lip liner before applying lipstick is important. Lip liners help keep color in place and prevent feathering throughout the day. It may also be helpful to apply some foundation or concealer around the lips prior to using lip liner, as this will ensure a more precise application. Then, after defining your lips with the liner of your choice, fill them in with your favorite lipstick shade and blend it out for an even look.
Once you've applied your lipstick, dust powder over the mouth area to set it in place. This helps lock in color and keep it from smudging or transferring onto other surfaces throughout the day. You can also use a lip brush to apply the powder and ensure a smoother, even application.
Finally, the last step for long-lasting lipstick is using a setting spray. Setting sprays help seal in makeup and keep it from fading or sliding off throughout the day. Just spritz some onto your face after you've finished applying all of your makeup for a lasting finish.
Using these simple tips, you can enjoy beautiful, long-lasting color without worrying about touch-ups throughout the day! With just a few extra steps, you can create gorgeous lip looks that will stay put all day long. So go ahead and try it out—you won't regret it!